Sign in to your account
Log-in to your ICanLocalize account.



In your Projects page, press the blue button Translate next to the desired project name to open the job in the new online translation assistant (WebTA).
Logged in
Once logged in, you'll be able to see your projects waiting for translation and/or review, and also the completed ones. Just select a category (for example, "Jobs waiting for your translation") to see a summary of all the corresponding projects:
Before starting
Before starting the translation, open the original page so you can check how it looks like on the website.

Start translating
Start translating using the Click to edit translation button.

Translate and click on the green checkmark to Save this sentence. If it contains typos the integrated spell checker will help you fix any errors. For more details about the spell checker, please read this guide.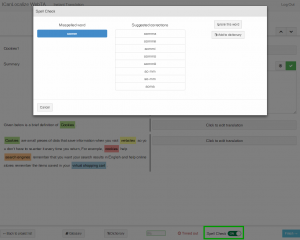 If you would like to leave the string incomplete to update it later, press a little cross sign on the right side of the translation field to Declare it as incomplete.
Translate and apply text formatting
If the text contains markers, highlight the translated word or phrase and select the right marker below the field.

View the detailed formatting markers guide here.
Use the glossary
Translators can contribute to the glossary. Create a new glossary entry for the term by adding its translation and description.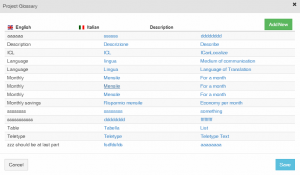 You can click the Glossaries button at the bottom of the page to see terms and add entries.
Create issues
If something is unclear, you can create an issue for the client with a general question and view existing issues by pressing the Chat button above the editing field.

Complete the translation
Once you complete the translation, press on the Finish button at the bottom right corner and check in the preview window how the translation looks like on the website. Return to the translation editor and make changes if necessary. Once all the segments are confirmed, finish the job.
Content