This tutorial shows how to use Translation Assistant to translate Help & Manual projects. When we're done, we'll have several Help & Manual projects, each one in a different language.
This video, shows all these steps in action on Help and Manual and Translation Assistant.
Creating the translation project
1) Create an account and download Translation Assistant
Translation Assistant is available to download for all users. To create an account, go to the new account page.
Once you're logged in to your account, click on the Download Translation Assistant button, located at the top of every page. Then, install Translation Assistant on your PC.

2) Log in through Translation Assistant to your account
When Translation Assistant starts it will ask you to log in. Use the same email and password you use to log in to icanlocalize.com.
3) Create a new Help & Manual translation project from Translation Assistant.

First, you'll be asked to name the project.
Then, Translation Assistant will ask you to select the Help & Manual project file (.hmxp). This fill will be in the root folder of your Help & Manual project.
Note: if your Help and Manual project is saved with an extension .hmxz, you first need to convert it to an uncompressed project. Open the project in Help and Manual, click File->Save as… and choose uncompressed (hmxp).

Next, you'll select the language you're translating from.
The last step of the project setup wizard lets you choose what pages on the Help & Manual project need to be translated. Normally, you should leave all pages selected.
Click on Finish to complete the setup wizard.
Choose translators and pay for the work
4) Upload the project to ICanLocalize and complete the project setup
Click on the Upload button in the project control panel.

Translation Assistant will upload the project to your ICanLocalize account. Then, you need to complete its settings.
These include:
Description for the project (so that translators will know what the help manual is for).
Translation languages.
Required fields of expertise.
Bidding restrictions.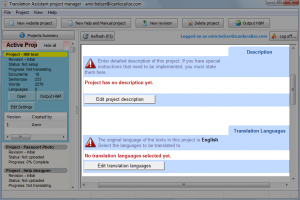 At the end of that page, you'll find a button to release to translators. Once a project is released, you'll start getting applications from qualified translators.
Choose the translators you prefer and deposit the payment for the work.
Then, translation begins.
Creating the translated Help & Manual projects
When translation is complete, you will receive a notification from our system.
Translation Assistant will download the completed project. Click on Output Help & Manual to create the translated help project.

You will receive an identical project to your original, only with translated contents.
Updating the translations when the help project changes
Over time, your help project is likely to update. Translation Assistant can detect what's new and help you update the translations.
Click on New revision to scan for changes in your help project.

Translation Assistant will identify new and updated texts in the help project and will mark only those for translation.
Repeat the same process as before for uploading and releasing the project for translation.
Getting started
To translate your Help & Manual project using Translation Assistant you'll need to have an account at ICanLocalize. You only need to pay when you choose translators and the work begins.